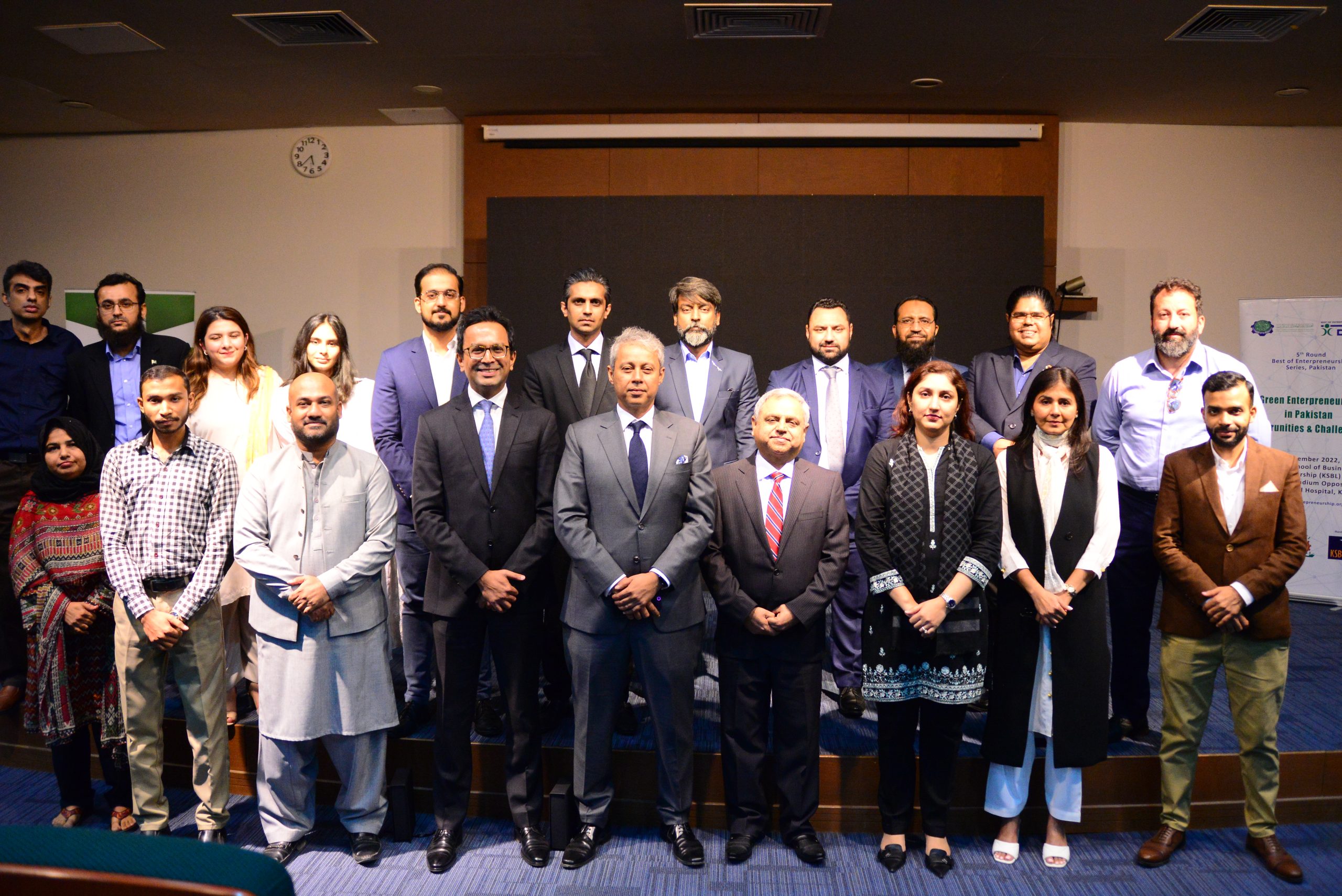 news
Conference on Green Entrepreneurship in Pakistan – Opportunities and Challenges
December 8th, 2022
KSBL in collaboration with Islamic Chamber of Commerce, Industry and Agriculture (ICCIA) organized a full-day event focused on 'Green Entrepreneurship in Pakistan- Opportunities & Challenges' as the 5th round of Entrepreneurship Series. The vision for the event was to generate momentum for increased entrepreneurial activity in Pakistan by sharing sector-specific information by with leading industry and Business representatives and entrepreneurs in Pakistan about their journey and available support being provided by ecosystem stakeholders.
Here in, a panel discussion on 'Plastic Pollution: Local Solutions to a Global Problem' was held, moderated by Syed Saad Ali Pasha (ICCIA). The distinguished panelists included Khawaja Bilal Hussain (Engro Corporation), Waleed Bin Ayub (Unilever Pakistan), Shiza Aslam (Circular Plastic Institute at KSBL), Shariq Vohra (FPCCI) and Dr. Yasir Nawab(National Textile University). The discussants shared success stories and the contributions of their institutions to the ecosystem. The discourse revolved around the initiatives and work done by the academia and private sector to move towards plastic circularity in response to plastic pollution and need for green entrepreneurship.
Talking about the vision and journey of Circular Plastic Institute (CPI) established by KSBL, Shiza Aslam, shared how it is an extension of KSBL's core sustainability values and its commitment to establishing an ecosystem for circular economy in Pakistan.  Situated on the academic side of the academic-practitioner ecosystem, CPI aims to facilitate partnerships across the circular economy sphere. It was highlighted that CPI is established in response to identified critical challenges preventing circular economy in Pakistan.
These challenges include (i) Fragmented research landscape, (ii) Policy on plastic pollution in nascent stages and in urgent need of being aligned with science-based targets, (iii) limited access to the latest information and global best practices, and (iv) Lack of skills and expertise among local talent. Further the role and significance of CPI was explained in relation to supporting green entrepreneurship. CPI through its research and development projects and core activities (roundtables, webinars, training courses, etc.) provides relevant stakeholders with critical data. It carries baseline studies to support the funding process and mapping barriers in plastic circularity. This holistic outlook enables CPI in incubating ideas and develop circular and inclusive business models.
The session was attended by professionals, students from across the city, KSBL students, and subject matter enthusiasts.