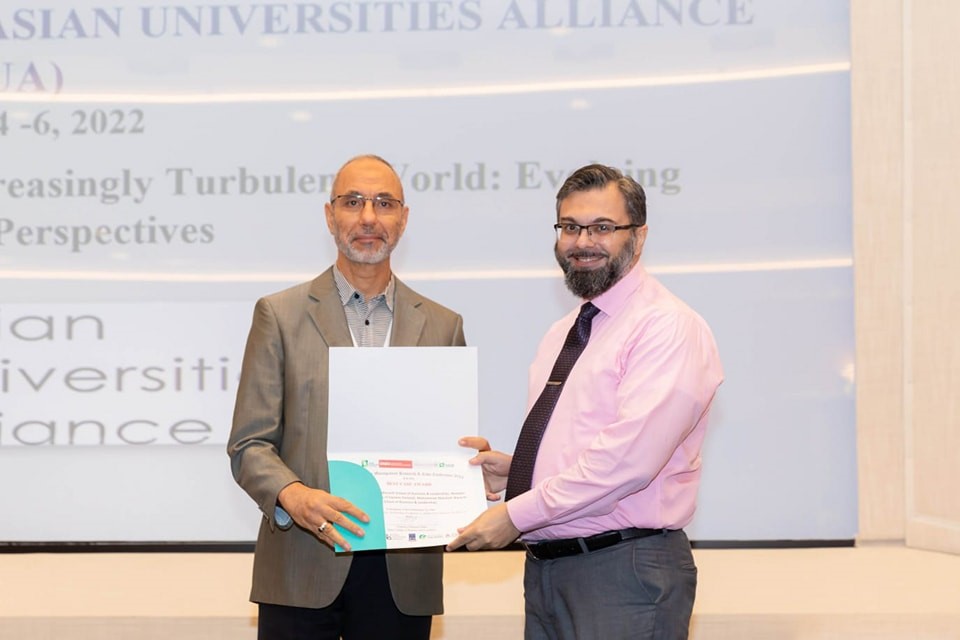 news
Dr. Shahzib Shaikh wins Best Case at the 10th Asian Management and Research and Case (AMRC) Conference
October 21st, 2022
Dr. Shazib Shaikh, Associate Professor (Business Analytics and E-Commerce) and Head of Information and Data Sciences at KSBL, won the award for Best Case at the 10th Asian Management and Research and Case (AMRC) Conference held on 4-6th October, 2022 at the UAE University (UAEU) in Al-Ain.
Out of 100+ submissions, the conference as a collaboration between the Asian Universities Alliance (including UAEU), LUMS, IIM Bangalore and the University of Dhaka only accepted 30 submissions. Among these, Dr. Shaikh's case series Eat Mubarak (A) battling foodpanda​​​ and Eat Mubarak (B) pivot to blinkco.io was chosen over the runner-up entry from LUMS to receive this award from the Dean of the College of business and Economics at UAEU.
The case is a vehicle for teaching the challenges young "entrepreneurs" face battling for venture capital funding and the strategic role of analytics in e-commerce competition.