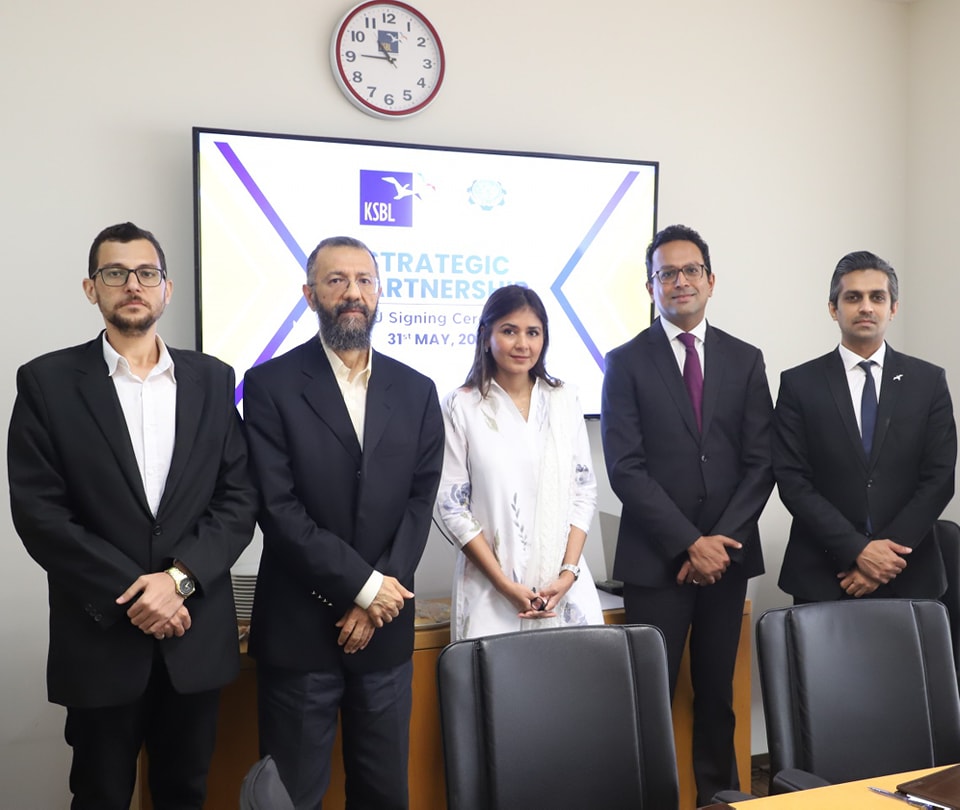 news
KSBL forms a strategic partnership with The Islamic Chamber of Commerce, Industry & Agriculture (ICCIA)
May 31st, 2023
Karachi School of Business & Leadership (KSBL) signed an MoU with the Islamic Chamber of Commerce, Industry and Agriculture (ICCIA) on May 31, 2023 at KSBL. The MoU was signed by Dr. Ahmad Junaid, Rector KSBL and H.E. Mr. Yousef Hasan Khalawi, Secretary General, ICCIA.
The partnership aims to establish a robust framework of cooperation, designed to pave the way for a series of impactful initiatives geared towards trade, investment, and sustainable progress within the private sector. Through this partnership, both institutions will collaborate to orchestrate a wide array of activities, including comprehensive training programs, interactive workshops, enlightening seminars, and forward-thinking conferences. These platforms will play a pivotal role in honing the skills and expertise of business professionals, while also fostering an environment of innovation and knowledge exchange.
On this occasion, Dr. Ahmad expressed his optimism about the collaboration between KSBL and ICCIA, foreseeing a promising path towards mutual success. He stressed that KSBL flourishes through its dynamic executive education, delivering meticulously crafted programs for cultivating future-ready professional growth.
One of the themes for the training to be carried out as part of the MoU is family business management and succession planning. Mr. Yousef Khalawi while sharing his thoughts on succession planning said, "Family businesses need more precise planning than any other entity. Because family and company are significantly intertwined, planning is necessary to put everything in its proper context."
Mr. Aijaz Haq, Head of Growth and External Linkages, KSBL said, "Around 80% of the businesses on Pakistan Stock Exchange are family-owned which makes it integral to offer programs that explore the unique management, leadership, and governance challenges faced by them. Our partnership will allow the delivery of family business programs for the long-term performance and sustainability of family enterprises."
One of the objectives of this alliance is to contribute to the realization of the OIC Program of Action 2025 – a visionary roadmap designed by the Organization of Islamic Cooperation (OIC) to propel member states towards socio-economic advancement. By aligning their efforts, KSBL and ICCIA aim to bolster capacity building initiatives that seamlessly dovetail with the core principles and targets set forth in the OIC Program of Action 2025. Furthermore, the partnership will be a potent catalyst for the attainment of the United Nations Sustainable Development Goals (SDGs).