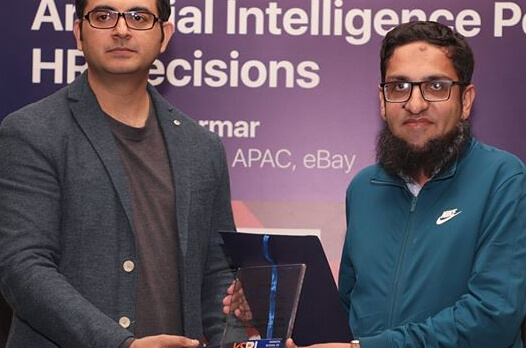 event
KSBL Held Eminent Speaker Series Talk on Artificial Intelligence AI Powered HR Decisions
February 19th, 2020
KSBL in collaboration with TerraBiz hosted Eminent Speaker Series talk by Mr. Sajjad Parmar (Head of Rewards- APAC, eBay), to speak to students on the topic 'Artificial Intelligence AI Powered HR Decisions'.
In beginning of the session, Mr. Sajjad shared in-depth insights with participants on scope of maximum attainment of business through avenue of ecommerce, and what transformational role AI has played in its rapid advancement.
He also highlighted about multiple HR Tech products and significant impact of AI in driving their algorithms, for prompt hiring process. He also shared about multiple HR programs and services, and how they can improve the performance of HR in future.
Dr. Muhammad Athar Siddiqui (Associate Professor, HR & OB, KSBL) ended the session with his concluding note. He appreciated Mr. Sajjad Parmar for conducting a vivacious session and creating awareness on the topic of discussion. Furthermore, he also praised him for his remarkable initiatives and achievements in the area of Artificial Intelligence.
The event provided an incredible opportunity to professionals and students from diverse areas and renowned institutions to gain knowledge and network in an amicable and friendly environment.