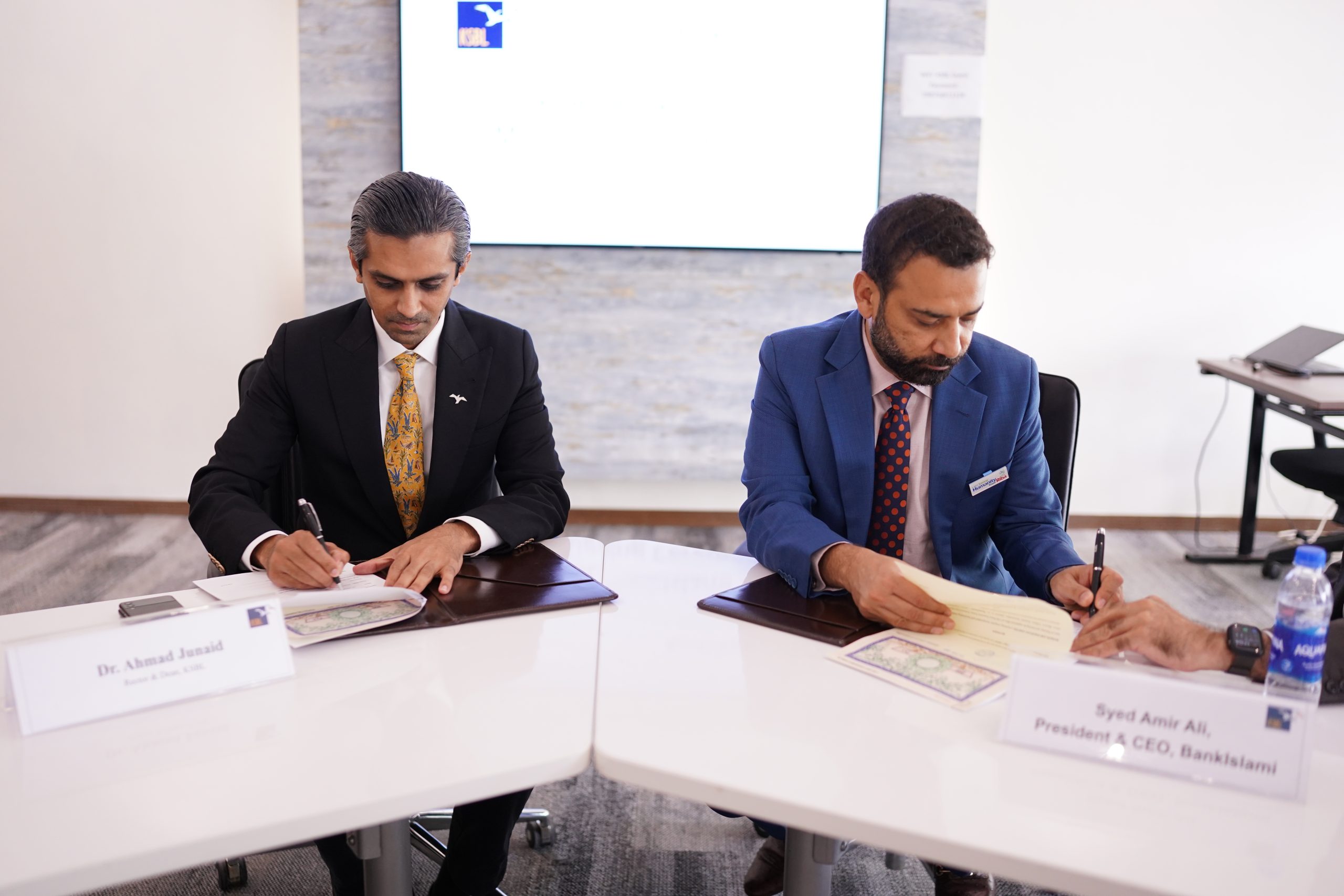 news
KSBL signs MoU with Bank Islami
August 8th, 2023
Karachi School of Business & Leadership (KSBL) entered a strategic MoU with Bank Islami on August 8, 2023 at KSBL. The MoU was signed by Dr. Ahmad Junaid, Rector & Dean, KSBL and Syed Amir Ali, CEO, Bank Islami.
The partnership is aimed at advancing research and fostering professional development within the education and the corporate sector. It signifies a monumental step forward in the pursuit of knowledge and excellence.
During the signing ceremony, Dr. Ahmad expressed his gratitude to Bank Islami for the invaluable partnership that has already placed a strong foundation with the commencement of an ongoing case study. He said that as a business school, we believe in building strong ties with industry as such alliances promote exchange of ideas, facilitating profound mutual learning.
Syed Amir Ali, CEO, Bank Islami said, "I have always believed in implementation of strategy. Among other areas of collaboration between Bank Islami and KSBL, the one very close to my heart is the development of a management case study. The idea is to share the business model with the students of management sciences to learn, deliberate and identify areas of improvement."
As part of the MoU, KSBL will organize certificate courses and awareness sessions on Islamic Banking and other topics relevant to the Islamic banking industry.
Rizwan Ata, Deputy CEO, Bank Islami shared, "I am pleased to announce that KSBL and Bank Islami are joining hands to exchange knowledge and experience. I hope that management sciences students will be able to understand and learn from the local industry."
Aijaz Haq, Head of Growth and External Linkages, KSBL said, "At KSBL, our core areas of focus are future-ready education, professional development programs and demand-driven research. Through this partnership, we will be able to work together in these key areas to bring impactful initiatives within the education and banking sector."
The signing ceremony was attended by the leadership and management of Bank Islami and KSBL.